As we approach February, all I have in mind is one of the biggest events in the drumming world: the Rio de Janeiro's Carnival. This year the 13 schools who will compete in the samba parade are:
BEIJA-FLOR

GRANDE RIO

IMPERATRIZ

MANGUEIRA

MOCIDADE

PORTELA

PORTO DA PEDRA

RENASCER DE JACAREPAGUA

SALGUEIRO

SAO CLEMENTE

UNIAO DA ILHA

UNIDOS DA TIJUCA

VILA ISABEL
In the near future I will post new content about the upcoming majestic carnival. It's hard to be so distance and report this event but I will do my very best. But let's talk a little bit about the Carnival.
"Although Carnival (Carnaval in Portuguese) is celebrated in towns and villages throughout Brazil and other Catholic countries, Rio de Janeiro has long been regarded as the Carnival Capital of the World. The Rio Carnaval is not only the biggest Carnival, it has also a benchmark against which every other carnival is compared and one of the most interesting artistic events on the Globe. Almost everyone has heard of the Rio Carnaval. Foreign visitors to it alone number around 500,000 every year."
in rio-carnival.net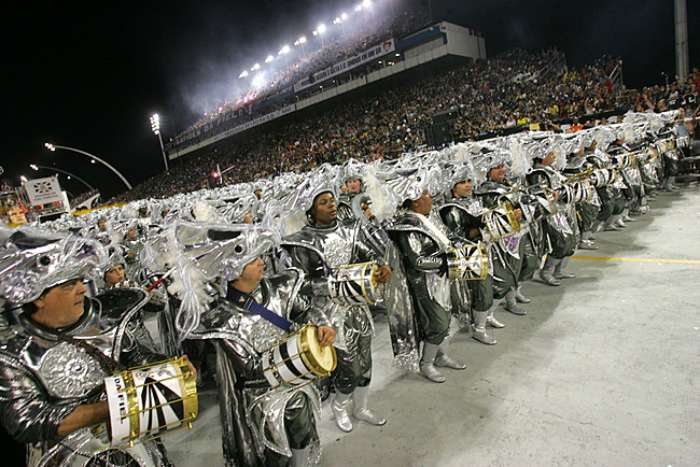 For instance, in this photo is the drummers line known as "bateria" in Portuguese which play the song for the contest. As we can see in this picture the instrument they are playing is called "cuíca", which is a traditional instrument from Brazil. Check this video to hear the sound that it make.
This year the Carnival kickoff is schedule the February 18th.
Fast remark, I wish a wonderfull 2012 for all the readers.